We hear the word joy a lot at the holidays. You'll see it on cards and decorations asking us to find joy in the season, bring joy to the world, and have a joyous new year.

What does it mean to experience joy and how do we get more of it? It's interesting because the ways that we generate more joy at the holidays are the same types of things we do to be more resilient throughout the year: music, singing, movies, baking, festivals, resting, playing, prayer and meditation, quality time with family and friends, being in nature. Resiliency brings more joy.

The holidays are a great time for making life more wonderful, but as we know, the holidays can be stressful if we allow the tasks and to do lists to get too long and cumbersome. When we get exhausted, our ability to be joyful is diminished.

Instead of doing too much, simplify so you can have more feel good vibes like bliss, happiness, and delight. That's the spirit of the holidays.
Here it goes. My truth is I am usually exhausted at the end of the year! I try to do too much all year long. I have a hard time knowing when to stop, because I love what I do and I am a purpose DRIVEN person with a mission! Nevertheless, I am not immune from what I share with you. Exhaustion diminishes my ability to be my best self, too.

Here's the upside. By practicing the things I teach in my courses and share with you through blogs, newsletters, and social media, I have learned to notice when I am becoming depleted and I have my go to cures to get me back to center. Open water swimming or being near water is one way. Taking long hikes and spending hours and preferably days in forests is another. I am better at walking meditations than sitting, although both have their benefits. I've been in an esoteric meditation group for three years and I've learned to energize my body and spirit using ancient techniques, some of which I share with you in my new course, The Power of Authentic Connection.

Life can be difficult and humans are complex. I am with you on this journey of continuous renewal and recentering. What I know for sure is the more you do these practices, the more this becomes the way you are.

I invite you to continue to explore the resources we have for you in our school. If you've finished the
MOREcompassion
for people and the planet course, move on to
The Power of Authentic Connection
, and vice versa. Get the
Celebrations, Appreciations & Frustrations
book as a companion to keep with you. Check out the curated sustainability
Daily News
and
Best Resources
apps in the member area. Let this be a place where we learn, grow, and evolve together.

The end of the year is wonderful time to reflect on what brings you joy and to renew your spirit. Consider taking some "me time" with my new online course,
The Power of Authentic Connection
. These teachings changed my life for the better, and I know they will yours, too.
Sign up and save 20% now through Christmas Day with code
GIFT2021
.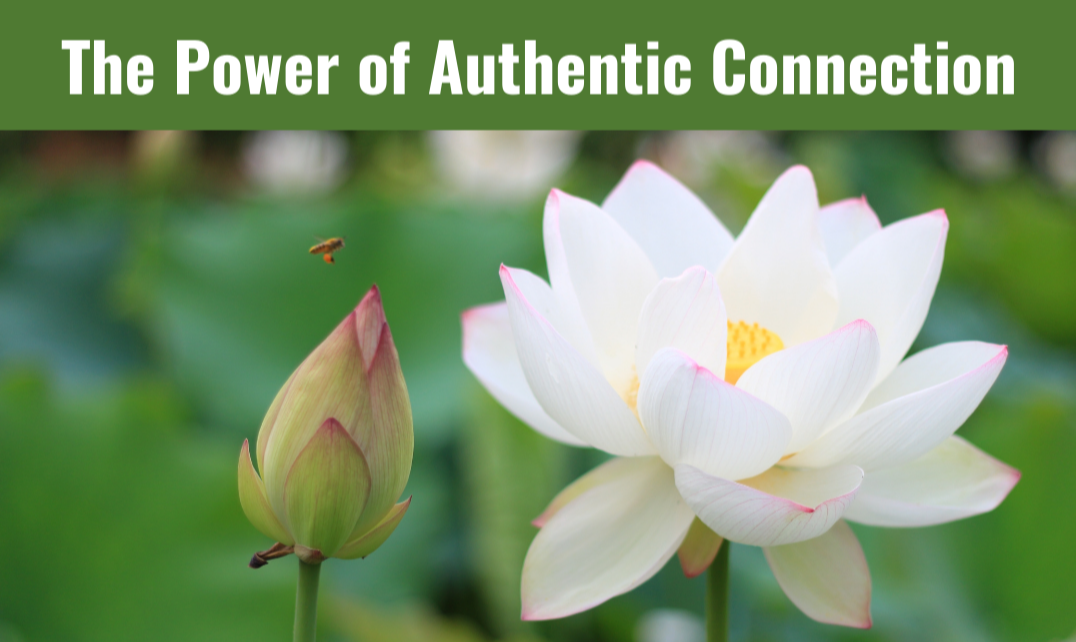 Creating a better world starts with better relationships, with one another and the gorgeous planet we share.
T
h
e Power of Authentic Connection
course is designed to be an insightful personal journey as well as an excellent leadership and team training tool.
You'll gain better relationships and life experiences by:


Mastering the three pillars of knowledge:
1. Compassion and empathy
2. Feelings as guides to needs
3. Storytelling
Igniting the Transformational Power of Alchemy:
1. Identifying your why and who
2. Evaluating relationships and measuring progress
3. Creating positive vibes in yourself that ripple out to the world
Leading and Participating in a 'Celebrations, Appreciations & Frustrations' Practice:
1. Understand the guidelines for the practice
2. Lead and participate in a practice
3. Explore multiple ways to apply the practice for people and the planet
What's included:
5-Star Rated Book: "Celebrations, Appreciations & Frustrations"
8 Additional Chapters plus expanded 'Celebrations' book content
32 Interactive Discussions and Exercises
7 Educational Videos
3 Music Videos
4 Content Quizzes
1 Relationship Quiz
1 Personal Journal
1 Mini eBook
On-demand with learner interaction and instructor feedback
Sign up today and save 20% now through Christmas Day with code
GIFT2021
.
Created with