Learning Journeys to Spark Imagination and Action for a Better World
By improving the lives of people and the condition of our planet, together we can create opportunities for greater prosperity. From grand global challenges to impactful local initiatives, Evolution University provides online learning journeys, coaching and consulting services, and educational curriculum to support individuals, organizations, and universities to be sustainability leaders. Our global community of changemakers provides opportunities for diverse groups to cross-pollinate ideas and knowledge in new and exciting ways.

Ways to Get Started
Individuals
Sign up directly to join our global community and take our courses.

Set up a changemaker profile and access the sustainability focused Evolution Newsfeed and Resource Hub.

Stay in the loop for webinars and special events.
Organizations
Access online training for individuals, teams, and enterprise levels.

Join existing on-demand courses or ask about private cohorts.

Engage our founder, Joni Roberts, to lead your organization through trainings and the EVOLVE Sustainability Framework.
Universities
Integrate our problem solving EVOLVE Sustainability Framework into courses and campus activities.

Offer learning content as modules, semester courses, and capstone projects.

Inquire about consulting services, customizations, and collaborations.

Learning Philosophy
Evolution University's sustainability content and curriculum is designed to upskill individuals, professionals, and university students to take action for social and environmental sustainability.

5 Essential Mindsets
Our learning content is grounded in the 5 Essential Mindsets representing the core attitudes, beliefs, and skills that help us imagine and take action to #EvolveOurWorld: global, compassion, abundance, growth, and changemaker.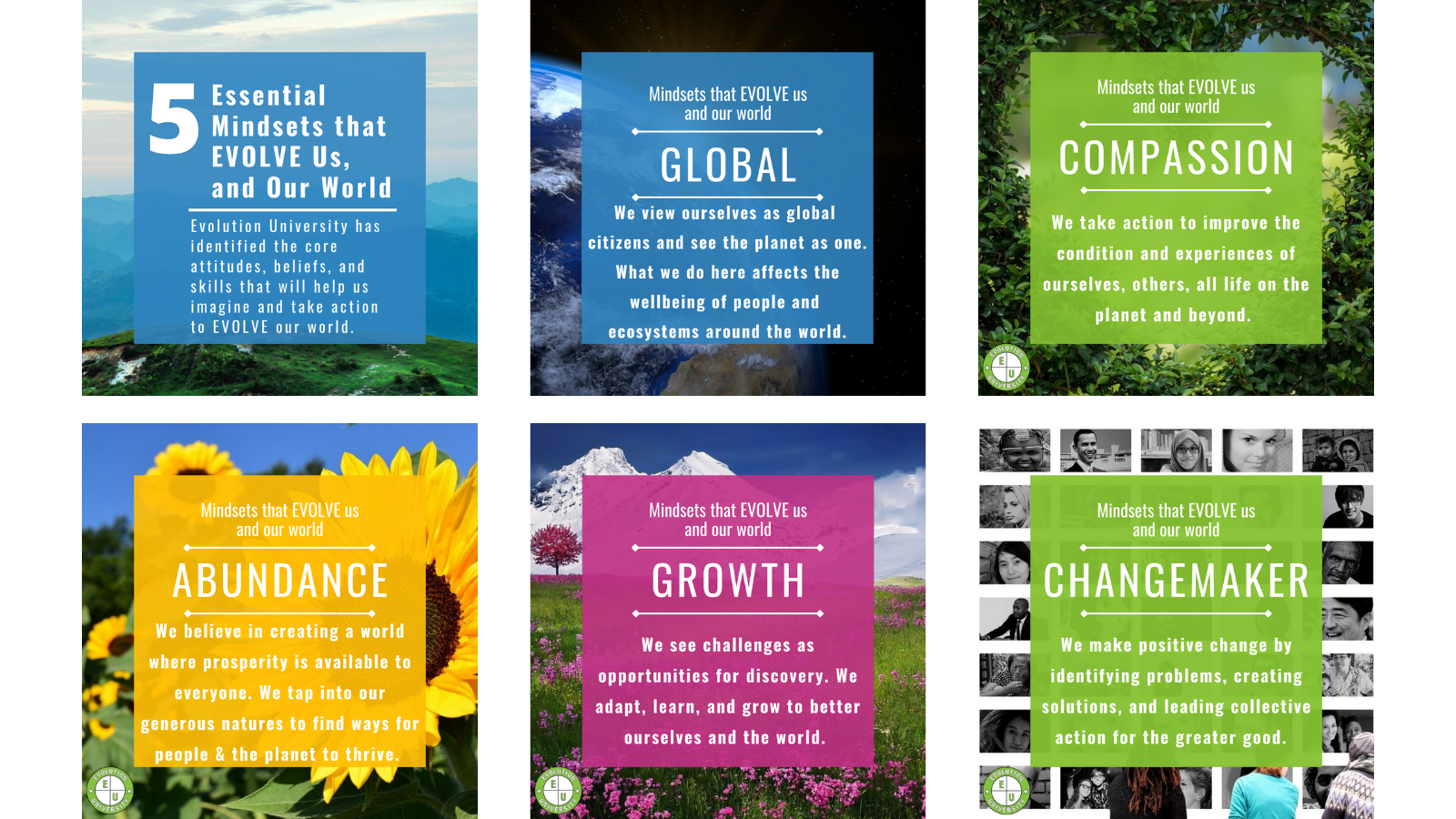 Our flagship product is the newly created EVOLVE Sustainability Framework™ featuring the Compassion-Centered Stakeholder Approach™. One of the biggest concerns voiced by professionals is figuring out how to get started and go farther with sustainability initiatives. The EVOLVE Sustainability Framework addresses this issue and does it in a way that is simple yet engaging, impactful, and robust.

By prioritizing stakeholder needs, then moving through the process of evaluation, imagination, innovation, and implementation, we can take actions that create a better world. The answers emerge in a highly participatory way where the knowledge of your team comes forth and is blended with new insights and ideas. The integration and application of these teachings is a pathway to embedding social and environmental sustainability into your organizational culture and centering it as a driver of strategic success.
The Compassion-Centered Stakeholder Approach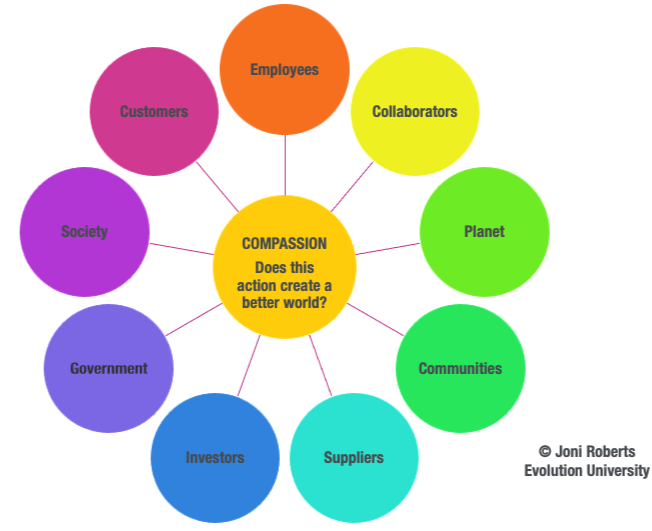 The EVOLVE Sustainability Framework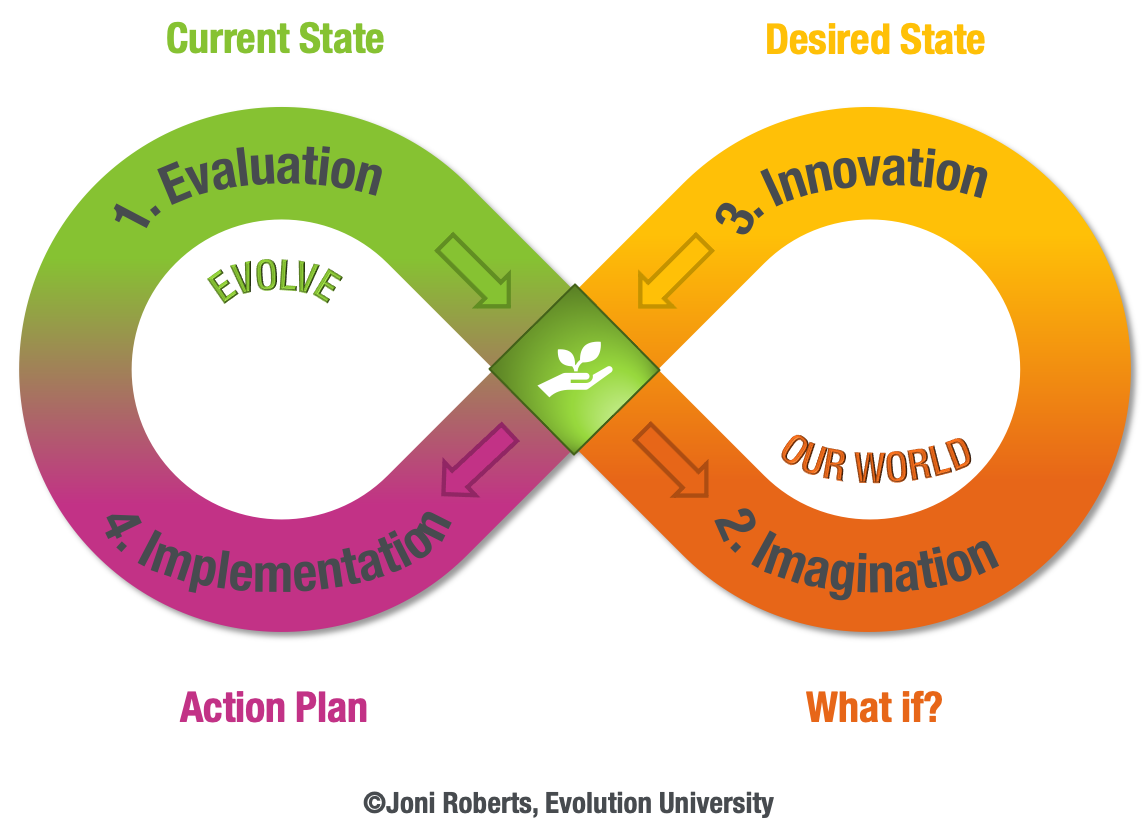 Alignment to Global Goals and Standards
Evolution University's content is aligned with the global goals that unify us such as the United Nations Sustainable Development Goals (SDGs) and the Paris Agreement on climate change-- teachings that are missing from traditional university textbooks, especially in the fields of business, marketing, technology, engineering, architecture, agriculture, and healthcare, leaving many graduates to enter the workplace without the necessary knowledge, skills, and abilities to address today's global challenges. When individuals, organizations, and universities are unified in achieving the global goals, together we can make positive change happen faster.

Start Your Learning Journey

GET STARTED on your learning journey by joining our free community and following along on social media.
Sign in to the Evolution U Community and join the conversation. Check out the free Resource Hub and Evolution News and expand your knowledge on sustainability. Make connections to grow your network.



Follow our social media series: Monday Mindsets, Evolve Our World, and Compassion Hacks to learn how you can make a difference. Find us by following our unique hashtag across social media: #EvolveOurWorld.



GO FARTHER in your learning journey by taking a course and engaging in coaching and consulting services.

1. Inquire about private instructor-led
trainings and coaching
for Evolution U courses.
2. Engage in
consulting services
to lead your teams through an EVOLVE Sustainability Journey featuring the Compassion-Centered Stakeholder Approach.
The EVOLVE Sustainability Journey for Climate Action

Starts October 22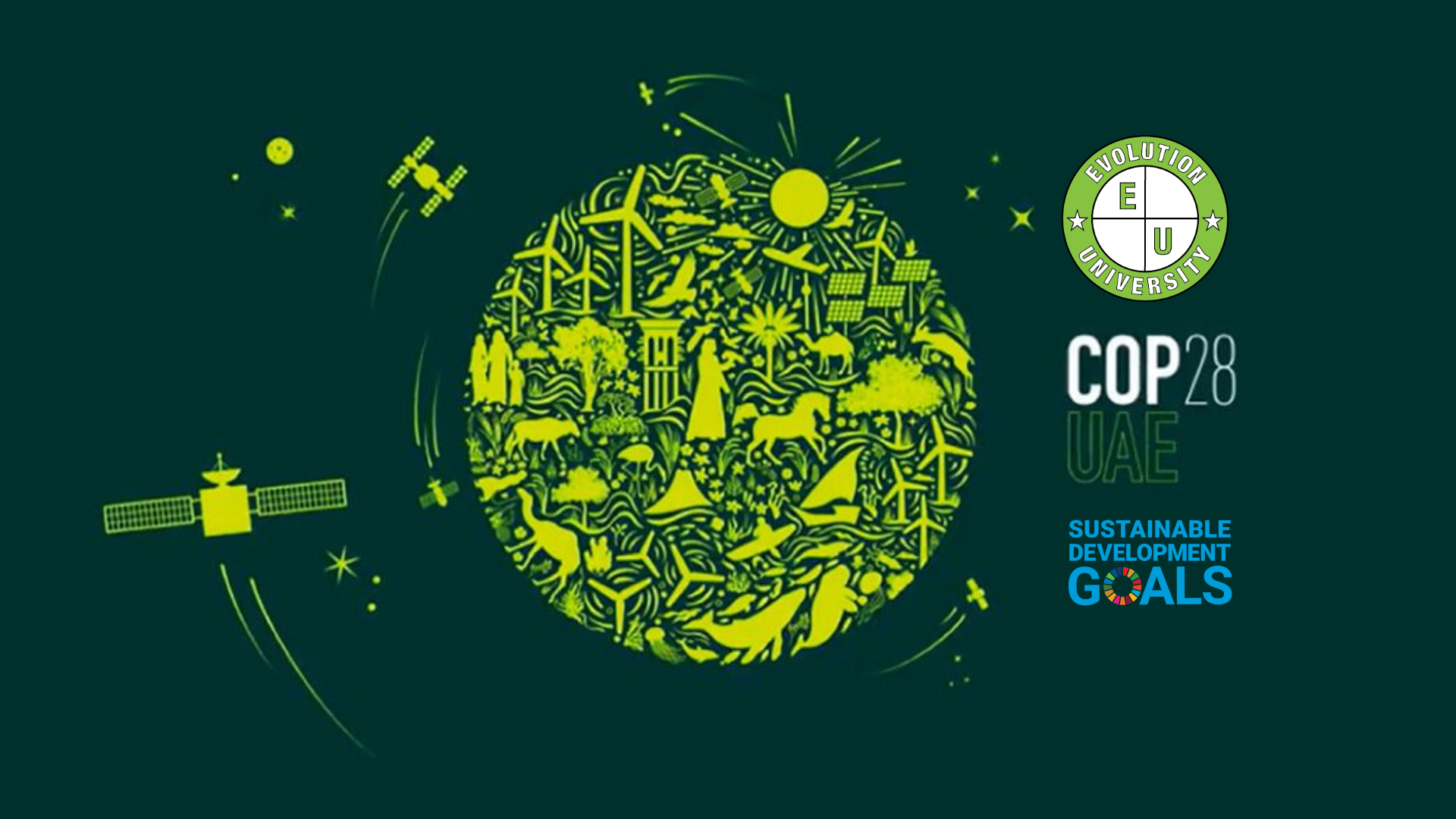 Created with