The Power of Authentic Connection
Join today
Author: Joni Roberts

Level: Intro to Intermediate

Total time: 9.5 hours

eBook Chapters: 25

Practice: 19 Exercises

Discussion Topics: 13
Creating a better world starts with better relationships, with one another and the gorgeous planet we share. Achieving social and environmental sustainability requires skills in empathy, compassion, and communication.
Course overview
Relationships are life! It is through our relationships with ourselves and one another that we find purpose and meaning. How we express ourselves and interpret the world around us has a profound impact on our life stories and experiences. The Celebrations, Appreciations & Frustrations practice helps us create better relationships by increasing connection and authentic relating. This online course expands on the book, providing deeper exploration and reinforcement of the practice.
Certificate included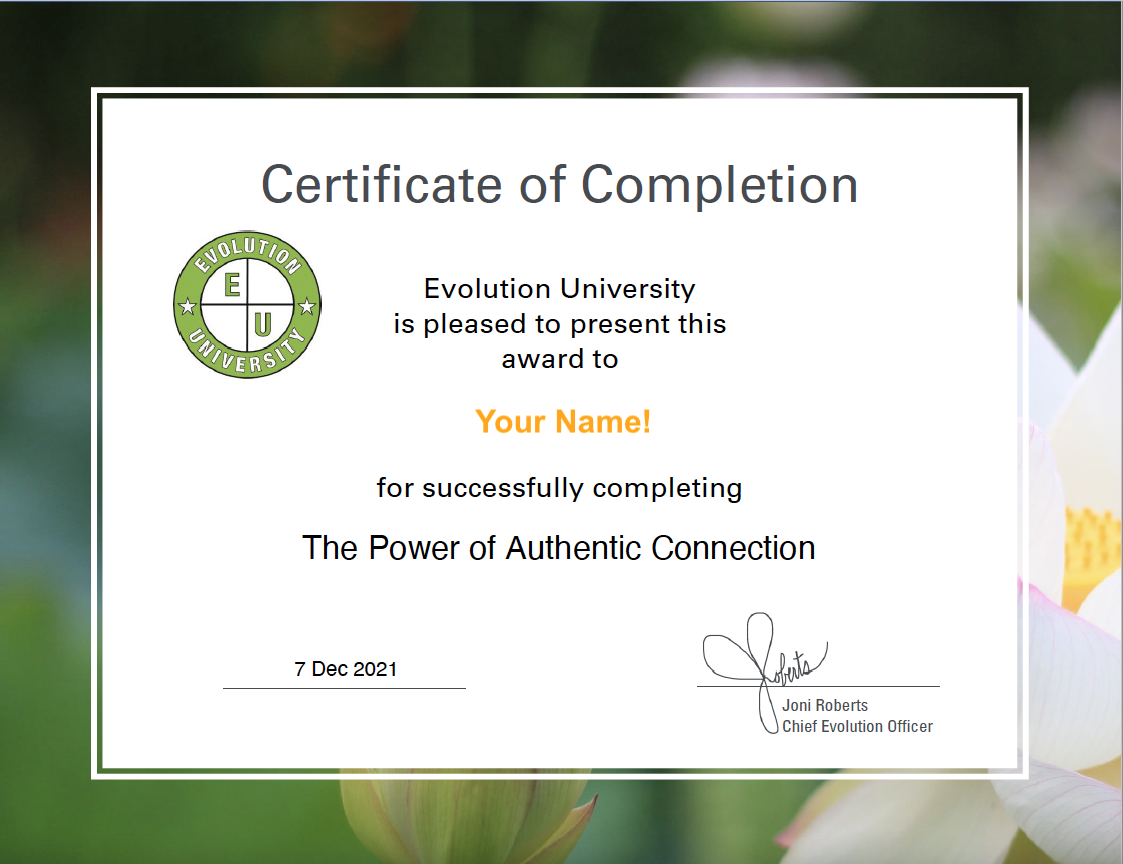 What's included?
5 Star Rated Book: "Celebrations, Appreciations & Frustrations"

8 Additional Chapters

32 Interactive Discussions and Exercises

7 Educational Videos

3 Music Videos

4 Content Quizzes

1 Relationship Quiz

1 Personal Journal

1 Mini eBook

Instructor Feedback

Cultivate the Power of Authentic Connection
Master the three pillars of knowledge.
1. Compassion and Empathy
2. Feelings and Needs
3. Storytelling

Ignite the Transformational Power of Alchemy
1. Identify your why and who.
2. Evaluate relationships and measure progress.
3. Create positive vibes in yourself that ripple out to the world.

Lead and Participate in a Celebrations, Appreciations & Frustrations Practice
1. Understand the guidelines for the practice.
2. Lead and participate in a practice.
3. Explore multiple ways to apply the practice for people and the planet.
Create Your Own Practice Groups and Workshops
The course is designed to empower facilitators and relationship coaches to create their own practice groups and coaching workshops. Use this course as educational material and lead participants through the practices.
Discuss with Others
Participate in our online forum, share thoughts and ideas, increase connection, get feedback from the instructor.
Write Your Own Stories
Reinforce practices with journaling.
Celebrations Book Reviews
What people are saying
Josephine Catuogno
Kean University Student
This was a fantastic book! I enjoyed reading every word and I felt like the format was very easy to read and the information helped me to implement new techniques into my relationships. I would highly recommend this book to anyone!
Tery Spataro
Researcher, Strategist, Futurist
Sometimes we forget our connection to our family, friends, community, nature, and earthly environment. Joni Roberts writes a timely and inspirational book to bring purpose and meaning to our lives through celebrating, appreciating, what's around us, and understanding frustrations that are learning experiences. This book is thorough and thought-provoking, with helpful exercises and insightful takeaways.
David Voss
President, Voss & Associates
This book is a brief, thoughtful and insightful mirror into our soul, allowing the reader to figure out how to find joy and overcome habits that impede our progress in relationships. Through simple steps and common sense language, Joni Roberts drives home the point that compassion and connections will bring authenticity to our relationships.
Preview the Welcome Section
Are you ready to change your relationships and change your life?
Meet the instructor
Joni Roberts, Chief Evolution Officer
With a passion for empowering people through education, Joni combines her unique experience in entrepreneurship and higher education with a mission to create a more joyful, prosperous, and sustainable world. Joni is a Leadership, Organizational Behavior, Global Strategy, Innovation, and Sustainability professor for 13 years and currently teaches for Kean University in New Jersey. In 2012, she became involved in the work of Marshall Rosenberg, PhD. and nonviolent communication (NVC). Today this is expressed through her new book, Celebrations, Appreciations & Frustrations and the corresponding online course: The Power of Authentic Connection.
Created with