for changemakers everywhere
The
EVOLVE

Sustainability Journey

Sparking Imagination and Action for a Better World
Make meaningful change for social and environmental sustainability.
Embed sustainability as a strategic driver of success.
Align to the SDGs and ESG.
The EVOLVE Sustainability Sprint for Climate Action
December 4 - 8
A five-day virtual innovation sprint during the biggest week of the year to unite, act, and deliver on climate action-- COP28 hosted this year in Dubai, UAE.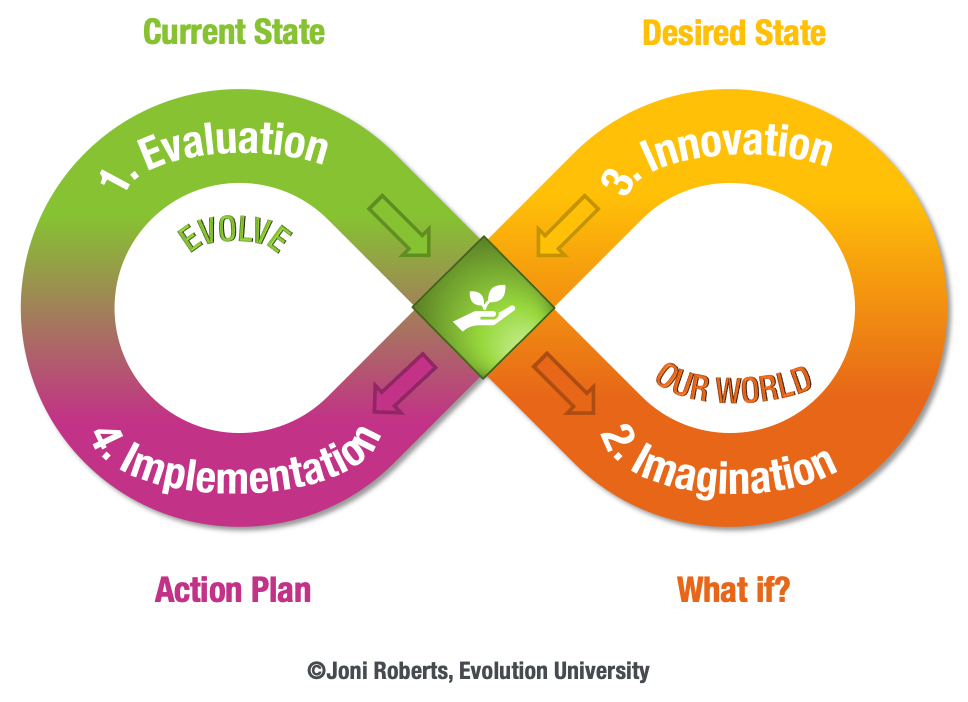 The Evolve sustainability framework
Get Ready to
EVOLVE Our World
The
EVOLVE Sustainability Journey
™ is for changemakers and organizations of all sizes to get started and go farther with environmental and social impact initiatives. Featuring the
Compassion-Centered Stakeholder Approach
™.
Weekly live sessions

Powerful online course

Instructor interaction

Practical exercises

Join from anywhere

Earn a certificate
EVOLVE Sustainability Journeys
are offered in 3-week, 6-week, and 6-month cohorts.

EVOLVE Sustainability
Sprints
are offered in 1-day and 1-week sessions.
EVOLVE Sustainability Highlights
can be shared in 60-minute sessions.
Live Sessions + Online Course
Highlights
Get started right away with sustainability initiatives. EVOLVE takes the mystery out of how to start making a difference today.
Impactful
Make meaningful change that leads to measurable impact. Align to global goals and standards, while increasing efficiencies and effectiveness.
Engaging
From start-ups to teams to entire organizations, EVOLVE empowers people to spark imagination and take action for positive change.
Robust
From refining your organization's purpose and values to embedding sustainability into its DNA, EVOLVE takes you on a journey of continuous improvement for sustainability.
Sustainability as a Strategic Driver of Success
Do you want to get started with making meaningful change in your workplace and community? Are you a sustainability champion and looking for ways to engage more people in your organization? Has your organization started sustainability programs and you want to discover ways to go farther?

This course sparks imagination and action for a better world. You will find ways to make meaningful change that lead to measurable impact. By taking a holistic stakeholder approach, you will learn how to embed sustainability into the DNA of your organization and center it as a strategic driver of success.

The course covers foundational concepts in social and environmental sustainability as well as the shifting values in society and how organizations can respond to them. It then moves into the EVOLVE Sustainability Framework and Compassion-Centered Stakeholder Approach that take the mystery out of how to get started and go farther with sustainability initiatives. You will learn the steps of evaluation, imagination, innovation, and implementation across people, products, and processes while engaging people throughout your organization to participate.
Next Cohort Starts December 4th!
The

EVOLVE

Sustainability Journey
Sustainability & Regenerative Design Strategist, California, USA
Compassion is at the core for regenerative systems and social innovation. The Evolve Sustainability Framework helps me integrate compassion-based frameworks with systems thinking and design thinking approaches. I loved Joni's practical approach of having a project to understand stakeholder engagement, designing for future and resources such a biomimicry. I would recommend this course for inidividuals as well as professionals working in the same team/company to experience this course by Joni Roberts.
Alfonso Navarro Carvallo
CEO and Teacher, EliteSDGs Business Consulting, Peru and Chile
An excellent advanced learning program. Several points to recommend to everyone-- excellent learning for the transformation of education with love and mind and we all have the ability to solve issues for the sustainability. The program has helped me understand many things. The interconnection in several of cases raised was excellent because as an educator, learning never ends.
Joel Amani Mafigi
Co-founder, Director at UNLEASHED (POTENTIALS IN MOTION) Isingiro, Western Region, Uganda
I had the pleasure of participating in the EVOLVE Sustainability Journey pilot program, and it was truly a transformative experience. The program provided a comprehensive and engaging approach to understanding and contributing to sustainability. From the very beginning, I was impressed by the well-structured curriculum, thoughtful discussions, and support from the facilitators. The EVOLVE Sustainability Journey wasn't just about theory; it was designed to empower participants to take action. The practical tools, resources, and action plans provided helped me translate newfound knowledge into tangible initiatives. It's truly a program that equips you with the skills and mindset needed to make a positive impact in your personal life, community, and beyond.
Awesome program!
Nouira Mohamed Salah
Biologist, Ministry of Education, Tunisia
Gain Holistic Insights | Solve Core Problems | Create the Future
Session 1: The Sustainability Evolution
Explore contemporary concepts of sustainability and the evolving design of commerce.




Explore ways people and the planet can thrive in the process of creating products and services.




Discover how organizations transition to sustainability and become purpose-driven.




Center social and environmental sustainability as the strategic drivers of success.



Session 2: The EVOLVE Sustainability Framework
Apply

frameworks for sustainability including the EVOLVE Sustainability Framework™ and the Compassion-Centered Stakeholder Approach™.




Discover opportunities for meaningful change by aligning to global goals and standards.




Identify areas for application in your organization across people, products, and processes.



Session 3: Evaluation
Apply the first of four steps in the EVOLVE framework: evaluation.




Investigate the current conditions and experiences of stakeholders.




Determine areas of improvement for social and environmental sustainability across people, products, and processes.




Assess baseline measurements for impact and ESG (environmental, social, and governance) reporting.



Session 4: Imagination
Spark imagination by asking "what if" questions and others such as "what would great look like?"




Engage in ideation and decision-making tools.




Explore sustainability design methods such as life cycle analysis, systems thinking, and the circular economy.




Align to the organization's purpose, vision, and values.



Session 5: Innovation
Engage in innovation processes to achieve the desired state.




Integrate sustainability methods for innovative thinking and design.




Evaluate

options

such as make, buy, redesign, and collaborations.




Determine the required investment of people, time, and money.

Ensure alignment to global goals and standards for achieving social and environmental sustainability.



Session 6: Implementation
Determine how success will be achieved and implemented.




Craft an action plan, goals, and key performance indicators.




Determine how impact will be measured, monitored, and improved.




Collect data for ESG and impact reporting.




Continuously EVOLVE sustainability initiatives by repeating the steps in the framework!



As the Founder and Chief Evolution Officer of Evolution University, Joni combines her unique experience as an international entrepreneur and business professor with a passion for creating a more joyful, prosperous, and sustainable world. She is the creator of the EVOLVE Sustainability Framework and the Compassion-Centered Stakeholder Approach as well as a book author and online course creator. You can follow her on social media with the hashtag #EvolveOurWorld.


Created with