Spring is here and it's the season for new beginnings. It's my favorite time of the year. I love everything that spring represents—new blooms and bright colors after a long winter recess. Spring gives us a chance to recreate what we want in our lives, and in our world.
From last spring to this one, our global community has gone through unprecedented change and disruption in the shared experience of dealing with a life impacting virus. It's been a difficult year for most of us, yet also an opportunity to emerge different, better, clearer, and more grounded in our values.
Values ask us to decide what we stand for. What are we unwilling to compromise? What is worth fighting for? What is worth living for?
Industrial Revolution
In order to emerge different, we need to understand the past. The business mindsets that shaped the Industrial Revolution were ones of grand ambitions for greater wealth and comforts for more people on this earth than ever before. Great business leaders were able to organize people and resources to build faster and cheaper goods for masses of people around the world. Stock markets were born, and the most admired companies made the most profits.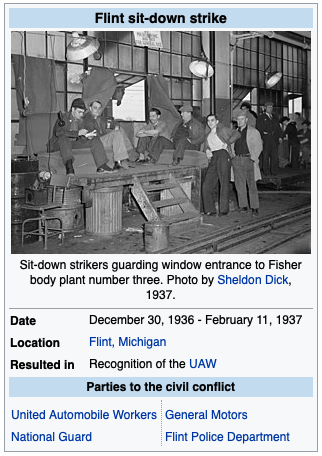 Economic Opportunity
My family arrived in the United States from Central and Eastern Europe at the turn of the last century with little money and dreams of a better life. My grandparents settled in Flint, Michigan, and my grandfathers were auto factory workers who were part of history fighting for early worker rights. They were also very poor. My mother's family of 10 slept four kids to a bed and lived with the bare necessities. My father's family lived on a small farm in a concrete and mud basement. Some mornings my father awakened to a foot of water covering the floor. There were tragedies and my grandparents were unskilled at managing the emotional side of life.
Industry meant working long hard days of physical labor with little creative contribution and persevering until a pension was earned decades later. I grew up listening to stories of unhappy work lives, drudgery, and witnessed the effects of what too much drinking could do to a family.
My parent's generation did better. From the 1960s to the 1990s, they upleveled their economic situations significantly, providing us a lifestyle that was dramatically different than the generation before. Our world got bigger. We had nice cars and second homes. Some of us started going to college, expanding our opportunities. We were the new middle class driving an even more robust economy. My father and some of my aunts and uncles moved up into management at General Motors, providing more financial stability. Still, the meaning of work was mostly about making money and delivering on the demands from the top of the hierarchy.
During this time businesses continued to expand, becoming globalized in marketing and production, delivering the consumer dream faster and cheaper to more and more people. It's tremendous how much economic wealth was built in a hundred years.
Unintended Impact
Today we see the devastating effects the Industrial Revolution has had on the planet, a result of exponential growth done in a way that is also causing unsustainability. We are experiencing rapid biodiversity loss, species loss, climate change, weather events, and from around the year 2000 forward, a widening gap between the rich and the poor.
These issues are shifting values from the blind pursuit of money and comforts to a desire to make a meaningful difference and to release the increasing angst of the unintended existential threat to our very survival.


Shifting Values
In the era my grandparents and parents lived through, developing resilient emotional lives was not part of workforce training. Work was logical. Vulnerability was considered a weakness and the word compassion dropped from our vocabulary. Winning in business meant being tough, giving directives and delivering results, which meant profits. Little to no thought was given to the systemic effects of how those profits were made including the social and environmental impacts.
An upside of economic advancement is that people also advance. We move up from the urgent needs of surviving to the expanded experience of thriving. We start to have options, which give us leverage.
We get to say money is not enough. We want fuller lives, and an evolved view of what prosperity looks like and feels like. We place a higher value on quality-of-life metrics such as education, health, wellness, equality, social and environmental justice, trust, happiness, love, better relationships, and personal expression in balance with economic indicators like GDP and GNP.

New Beginnings
Since the Industrial Revolution brought us to the point of unsustainability, as we emerge from the pandemic, how can we do better and create the conditions for sustainability? The old way is to put shareholders at the center of businesses and align decisions accordingly—to drive profits. What would happen if we put compassion at the center of decision-making and considered the systemic impact of everything we do across all stakeholders and simply asked: does this action create a better world? What would the outcomes be then? What would our world look like? How would our communities and companies be different? How would we be different?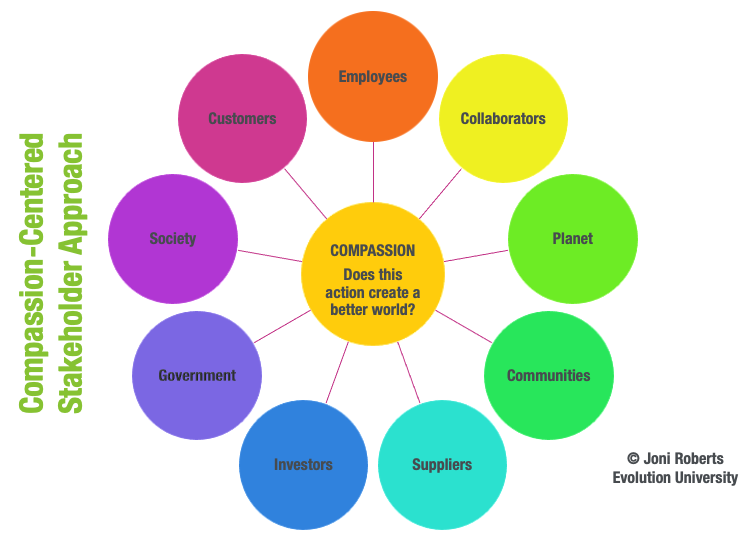 If compassion is fluffy bunnies, let's go for it. I challenge you to ask what other answer is there? I have not come up with any. This is why compassion is the foundational mindset of Evolution University where we teach and promote putting compassion at the center, connecting our hearts and minds to evolve our world. I have no doubt this is what my grandfathers were fighting for when they took action by sitting down on their factory jobs, risking their lives and the only source of income for their families.
We are entering a new era that will again up level the way we work and live. It's up to us to define, shape, innovate, and have the courage to make the changes. I invite you to join our school where we are learning, growing, and working together to solve today's problems and create a better future.
I look forward to seeing you there!
Joni
Created with