Empowering Changemakers to Evolve O
ur
World
Through Education, Everyday Actions, and Entrepreneurship
Evolution University is an online school for changemakers and entrepreneurs inspired to create programs, products, and services with positive benefits to society and our planet. To successfully achieve sustainability, we need to reinvent the way we interact with the world both individually and collectively. In doing so, we can imagine and create a world that is much better for humanity and the planet than the one we have now.

The next decade is pivotal for defining, innovating, and making the changes. Evolution University supports this process by providing education, resources, and community, enabling us to learn, grow, and work together to solve these problems. The need to take action has never been greater and the time to act is now. Let's get to work, let's make it happen!
Celebrating the launch of Joni's new book!
"Celebrations, Appreciations & Frustrations: a simple, yet powerful practice for bringing MORE connection and authenticity to our relationships"

By Joni Roberts, Founder of Evolution University and MOREcompassion

Our Unique Approach to Solving Sustainability Issues

Featuring the "EVOLVE Sustainability Framework" and "Compassion-Centered Stakeholder Approach"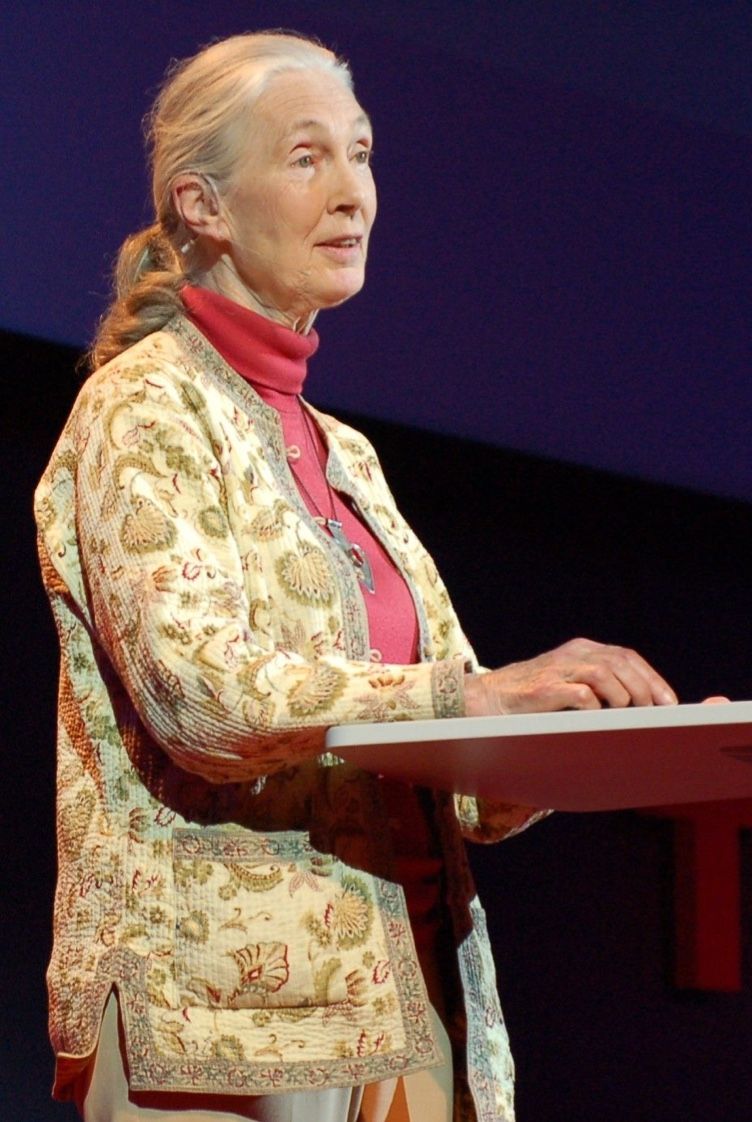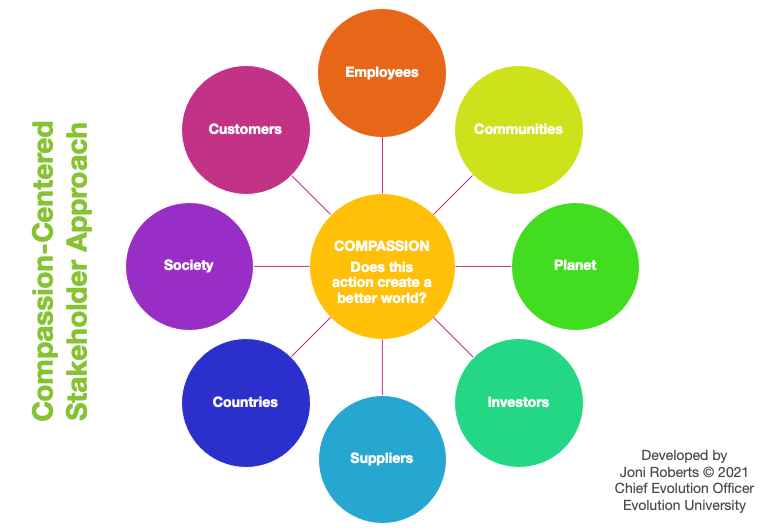 "
How is it possible the most intellectual being that ever walked the planet is destroying its only home? I think it's a disconnect between the clever brain and the human heart, which is love and compassion." - Dr. Jane Goodall
From young activists like Greta Thunberg to wise elders like Jane Goodall, the call for action for people and the planet is widespread. With news reports and personal stories of the dire effects of climate change and societal shortcomings, the problem is not as much a lack of awareness that change needs to happen, but more about how people can engage and take meaningful action for change.
Evolution University helps solve this problem with a unique and highly relatable action-oriented approach to education. Knowledge and inspiration is delivered through our online courses, social media series, instructor leadership, a global knowledge sharing community, and resources, books and blogs that align to the Global Goals that unify us.
Our founder, Joni Roberts, recently created a new and exciting
EVOLVE Sustainability Framework
that helps individuals and organizations take action for a better world. The framework is simple, engaging, and impactful and features a new
Compassion-Centered Stakeholder Approach
that serves to counter the damage done by the profit driven industrial era.
Woven throughout our teachings are the
5 Essential Mindsets that EVOLVE Us and Our World: Global, Compassion, Abundance, Growth, and Changemaker
that Joni identified as core to the mindsets, behaviors, and skills required to transform our world.
Evolution University's unique teachings and alignment with sustainability frameworks like the United Nations Sustainable Development Goals and the Paris Agreement for climate change, provide powerful programs to address the urgent changes needed now.
EVOLVE Sustainability Framework
A simple, engaging, and impactful way for organizations of all sizes to take action today for a better world.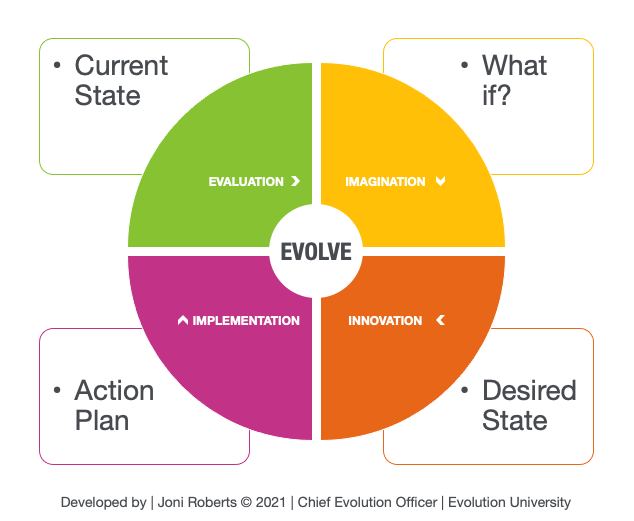 Simple
Get started right away with sustainability initiatives. EVOLVE takes the mystery out of how to start making a difference today.
Engaging
From start-ups to teams to entire organizations, EVOLVE empowers people to spark imagination and take action for positive change.
Impactful
Make meaningful change by aligning to social and environmental sustainability goals while increasing efficiencies and effectiveness.
Our Approach to Education

Global Reach, Faster Access, and Impact Focused Learning Experiences
Full Changemaker Journey
Evolution University supports changemakers and entrepreneurs starting with cultivating compassion, connecting to a purpose, evaluating ideas, launching and growing initiatives, plus accelerator and impact investor opportunities.
Join from Anywhere, Access Anytime
No need to wait a year for the next opening or be tied to a geographic location. Our courses combine on demand content with webinars, instructor leadership, and opportunities to connect with likeminded people.
Local and Global Initiatives
Whereas some educational incubators and accelerators are only looking for the next big thing, EU embraces local and global innovators. We believe healthy economies and ecosystems require a balance between both.
Return on
Investment
Next level your skill sets
Make better decisions
Increase confidence
Increase speed to market
Monetize smarter & faster
Reduce trial & error
Save time & money
Make valuable connections

Make meaningful change
Evolution

U Community
We believe connection with others is a key success factor for taking on challenges and persevering. We have community built in to our school and our courses.
What's included at the free level?
We are building a community of people making positive change around the world
Personal Profile
Showcase your personal experience, interests, and organizations. Collect badges for participating in the community discussions and completing courses.
Connection with Changemakers
Access our online forum where you can meet one another, share ideas, inspiration, and find potential collaborators.
Best Resources
Access to a library of curated resources for personal growth and social and environmental sustainability. You will find downloadable pdfs and links to recommended books, videos, and documentaries.
Daily News
Curated newsfeed with an emphasis on optimism, science, and sustainability. Drop the negative news and bookmark this page to feed your mind and spirit with ways to solve problems and make the world a better place.
Expert Led Webinars
Stay in the loop and join webinars from featured experts in the fields of tech, social, and eco sustainability.
What's included at the course level?
You will have everything listed above, plus...

Quality Content
Courses are designed at the quality level of university courses with content that is engaging, thought provoking, impact focused, and action oriented.
Interactive eBook
Each course comes with an advanced interactive ebook that is easy to follow with text that can be highlighted, videos, quizzes, and links to curated resources.
Connection with Course Learners
Access to the course level discussion areas where you can meet your classmates, share ideas and inspiration, and find potential collaborators.
Notes
Ability to take course notes that are automatically saved to your private personal folder in the Best Resources section.
Expert Led Webinars
Opportunities to interact with featured experts specific to course topics.
Certificate of Completion
Receive an attractive certificate that can be printed and shared digitally on social media.
Join the Evolution U Community and Be the Change
Sign up for a free membership today and receive a complimentary book summary of "Celebrations, Appreciations & Frustrations" -- a simple, yet powerful practice for bringing MORE connection and authenticity to your relationships
Evolve Our World

Through Everyday Actions & Entrepreneurship
Many of us are concerned about the critical state of our planet from the air to the oceans and everything in between. We are living in the aftermath of 200 years of industrialization, resulting in major advancements for societies as well as devastating deficiencies, including being unsustainable for our planet and future generations. It's up to us to take action to do things differently. The exciting part is with possibilities thinking and a great amount of perseverance, we can solve these problems one person, one community, one company at a time.

Everyday Actions

Creating a better world starts with each of us, everywhere, making positive changes and taking everyday actions. We can no longer pretend someone somewhere else is going to solve the problems we contribute to each day.

The upside is when our individual actions are replicated by millions and billions of people around the world, we can make exponential impact together. Now that's something to be excited about!

All of us can get better at being good to the planet and one another. Doing the right thing starts in our homes, our communities, and our companies. As you look around, you will see ample opportunities to make a difference everyday, everywhere.

Today is a good day to take action!


Learning Journey to Enhance Everyday Actions
Community
Sign into
the Evolution U Community and join the conversation. Check out the free "Best Resources" and "Daily News" apps and expand your knowledge on sustainability.
social media
Follow our social media series: Monday Mindsets, Evolve Our World, and Compassion Hacks to learn how you can make a difference. Follow our unique hashtag across all social media: #EvolveOurWorld

By improving the lives of people and the condition of our planet, together we can create greater prosperity. From grand global challenges to impactful local initiatives, EU provides educational resources and courses to support tech, social, and eco entrepreneurs and changemakers. The impact each organization makes becomes exponential when aligned with the Global Sustainable Development Goals that unify us.
Tech Entrepreneurs
Science, Technology
Engineering & Math
IoT & Artificial Intelligence
Sustainability
Renewable Energy

Social Entrepreneurs
Health & Wellness
Education
Equality & Inclusivity
Economic Prosperity
Arts, Culture & Entertainment
Eco Entrepreneurs
Agriculture & Permaculture
Reforestation & Conservation
Clean Air & Water
Environmental Causes
Animals & Habitats
Learning Journey to Enhance Entrepreneurship
Sign into the Evolution U Community and join the conversation. Check out the free "Best Resources" and "Daily News" apps and expand your knowledge on sustainability. Make connections to find partners, collaborators, and teammates.
Follow our social media series: Monday Mindsets, Evolve Our World, and Compassion Hacks to learn how you can make a difference. Follow our unique hashtag across all social media: #EvolveOurWorld

Purpose to Prosperity

Idea to Action

Mini MBA for Changemakers
THINK BIGGER: ALIGN TO THE GLOBAL GOALS

The Global Goals for 2030
A Multi-trillion Dollar Opportunity
It's one thing to say let's create a better world, and a more challenging undertaking to make it happen. It will take all of us, everywhere to make the necessary changes. We need individuals to take everyday actions and changemakers and entrepreneurs to innovate and implement new products and services that will bring greater harmony with nature and wellbeing to societies.

With so many challenges, you may wonder how you can make a difference. An ambitious plan underway is the Global Goals to transform our world by 2030. All member countries of the United Nations have signed on and agreed to set the Sustainable Development Goals as priorities. Success requires competent leadership and strategic alignment from global to local levels.

Based on the "Better Business Better World" report produced by the Business and Sustainable Development Commission, the pathway presents a multi-trillion dollar opportunity with a 5-15 year first mover advantage. There is an abundance of work to be done and new growth to be generated across many areas of interest. The future is ours to create.
Welcoming Changemakers from Around the World
Evolution University is based in Jacksonville, Florida, USA with members from around the world including Algeria, Belgium, Canada, Costa Rica, Croatia, Czech Republic, Denmark, Egypt, Ethiopia, France, Germany, Ghana, Guatemala, India, Italy, Malaysia, Mexico, Netherlands, Norway, Philippines, Russia, Saudi Arabia, South Africa, South Korea, Spain, Switzerland, Trinidad & Tobago, Tunisia, Turkey, United Kingdom, and the United States.
This is a great program for entrepreneurs and businesses. Joni is a MBA professor and entrepreneur who can guide you from idea development to proof of concept and business development. Don't miss this opportunity to learn from a top international entrepreneur and consultant on how to take your business or idea to the next level.
Freddie zeringue, president, polar controller
I had no shortage of business ideas. Over the years, I collected dozens of them. Within minutes, with one PDF as my guide, I was able to logically evaluate each of them as an entrepreneur would. Five minutes saved me time, money, frustration. I was able to identify an achievable goal worth pursuing. My cluttered pool of ideas has become crystal clear and I'm truly ready to dive in.
elle obi, activist & educator
I definitely recommend these workshops. The questions are brilliant. They got me moving from emotion to realism. My business was being pulled in so many directions I was getting frustrated. I wanted to work hard but knew my hard work wouldn't produce my desired outcome because it wasn't focused on a specific strategy. After taking the courses I had relieved myself of so much pressure and I felt focused again. Through an outstanding discussion and the sharing of my ideas, I received both validation and constructive feedback.
Matthew burn, coach & financial advisor
I would strongly recommend that anyone in business should sit this Mini MBA irrelevant of how long you've been in business. Created and delivered perfectly.
steve sadler, creator & educator
Thank you for making this opportunity available and in this forum. Incorporating compassion and purpose understanding into a business idea platform is exactly what I need and want for the next chapter of my life.
annie mann
I've received some exciting insights to the increasing world community joining social consciousness with the realities of business and economics.
David S.
Confirmation that I'm on the right path. Allowed me to meet other people that are on the same path as well. To give and share their talents in service for the higher good. Seeds of options.
Rebecca Dale
This class was delightful! I had some surprising insights that were VERY helpful.
L. Vann
Get Started with a FREE course!
MOREcompassion
for People and the Planet