The way we are doing business


is working against us.




For the past 50 years, economies have been built on driving consumerism without enough thought given to how products are made and who and what gets hurt in the process. The single-minded drive for profits has led us to where we are today-- facing global crises related to pollution and degradation of our air, land, water, forests, ecosystems, and societies.

We believe today's problems are an opportunity to do things better. Evolution University is a social enterprise that offers training and consulting services for changemakers inspired to create products and services with net positive benefits to society and our planet.

To successfully achieve sustainability, we need to reinvent the way we interact with the world both locally and globally. In doing so, we can imagine and create a world that is much better for humanity and the planet than the one we have now. The next decade is pivotal for evaluating, imagining, innovating, and implementing the changes.

"The problems that exist in the world today cannot be solved by the level of thinking that created them." - Albert Einstein


It's Time to Think Differently


What if we #FlippedTheScript?
Instead of placing profits at the center of decision making, what if we put compassion at the center and considered the systemic impact of everything we do across all stakeholders and simply asked: does this action create a better world?

Instead of making profits the main indicator of success, what if we make sustainability the strategic driver of success and find optimal solutions across people, the planet, and prosperity?

What if we create a new way to spark imagination and action for a better world?
And make it simple, engaging, impactful, and robust?
One that shows us how to become purpose-driven changemakers that identify,
evaluate
, and solve problems for people and the planet?
One that centers on empathizing with stakeholders and engaging in a process of discovery,
imaginatio
n
, and
innovation
?
One where we can make meaningful change by aligning to global goals and standards like the UN SDGs and ESG?
Then takes it all the way to crafting action plans to
implement
and achieve success?
"We are in the process of developing an evolving design of commerce where people and the planet thrive in the process of creating products and services." - Joni Roberts, Founder of Evolution University
Chemical Engineer
South Africa
This course is a brilliant, one-of-a-kind course! Thank you to the course coordinators and Evolution University for the knowledge you have imparted and motivation to be more compassionate. The course was well-structured and I loved the entertaining videos and book recommendations. I will be recommending this course with as many individuals I can!
Rohan Aurora
Tech Entrepreneur
Vancouver Canada
An excellent compact course to learn and integrate compassion, empathy, and resiliency. The content is enlivened with insightful videos and challenges to reinforce a compassionate mindset.
Chris Byers
Venture Capital Fund Manager, Boston
I love how Evolution University has set the foundation for its coursework with a BOLD INTENSION to develop organizational leaders in the skills of compassion, empathy, and mindfulness.
People We Serve
Individuals
Ready yourself to lead and help solve today's social and environmental sustainability challenges. Next level your skill sets and make meaningful change.

Organizations
Get started and go farther with sustainability initiatives. Build better brands, cultivate positive stakeholder experiences, and optimize value across the organization.
Universities
Become a sustainability leader by integrating our problem solving and interdisciplinary frameworks and learning content aligned to the United Nations Sustainable Development Goals.
Values Based | Sustainability Driven | Global Community
5 Essential Mindsets to EVOLVE our World
Our learning content is grounded in the 5 Essential Mindsets™ representing the core attitudes, beliefs, and skills that help us imagine and take action to #EvolveOurWorld: Global, Compassion, Abundance, Growth, and Changemaker. Learn more about the mindsets in our courses and follow along with our Monday Mindsets social media series.
Sustainability as the Strategic Driver
Our EVOLVE Sustainability Framework™ takes the mystery out of how to get started and go farther with sustainability initiatives. The simple, yet robust framework helps organizations integrate sustainability as the strategic driver of success. The beauty of the framework is that it works for organizations of all sizes and inspires imagination and action across all departments. It aligns to the UN SDGs and feeds data for ESG.

Stakeholder Value Approach
Find ways to increase stakeholder value with our Compassion-Centered Stakeholder Approach™. When you put compassion at the center of decision making, it naturally leads to optimal outcomes for people, planet, and prosperity. Dive deeper by asking the right questions such as: Does this action create a better world? What would GREAT look like?
Global Community of Changemakers
Evolution U was born global, attracting changemakers from around the world and giving us the opportunity to connect and cross-pollinate ideas and knowledge in new and exciting ways. Our growing community is set up to bring together individuals, teams, organizations, and universities in ways that have never happened before!
UNITE TO ACT: ALIGN TO THE GLOBAL GOALS
Partnership for the United Nations Global Goals Week
Evolution University is thrilled to be selected as a Global Goals Week Partner for 2023! GGW is an annual week of action, awareness, and accountability for the 17
Sustainable Development Goals
(SDGs) that takes place between September 15 - 24 in NYC and around the world.
Global Goals Week
is a shared commitment between 150+ partners across civil society, business, academia, and the UN system to accelerate action on the SDGs during the UN General Assembly High-Level Week. It is also an opportunity to speak out as one voice, share ideas and transformative solutions to
#Act4SDGs
and unite to
#EvolveOurWorld
.
This year marks the half-way point in the timeline to achieve the SDGs by 2030. We are counting on you to join us by coming together to cultivate ideas, identify solutions, and take action to solve a wide range of complex global problems from inequality to climate change.
Become a member
of Evolution University to access resources and stay on top of the latest updates and events we are leading for Global Goals Week!
Check out the
EVOLVE

Sustainability Journey to

Global Goals Week

Join us August 27 - September 16 for a for a three-week intensive EVOLVE Sustainability Journey that readies you to lead and take action for the SDGs. During Global Goals Week, Evolution University will host an additional live session highlighting individuals and organizations that apply the EVOLVE Sustainability Framework to make impact for the goals.
Join the Evolution U Community and Be the Change
The EVOLVE Sustainability Journey for Climate Action

Starts October 22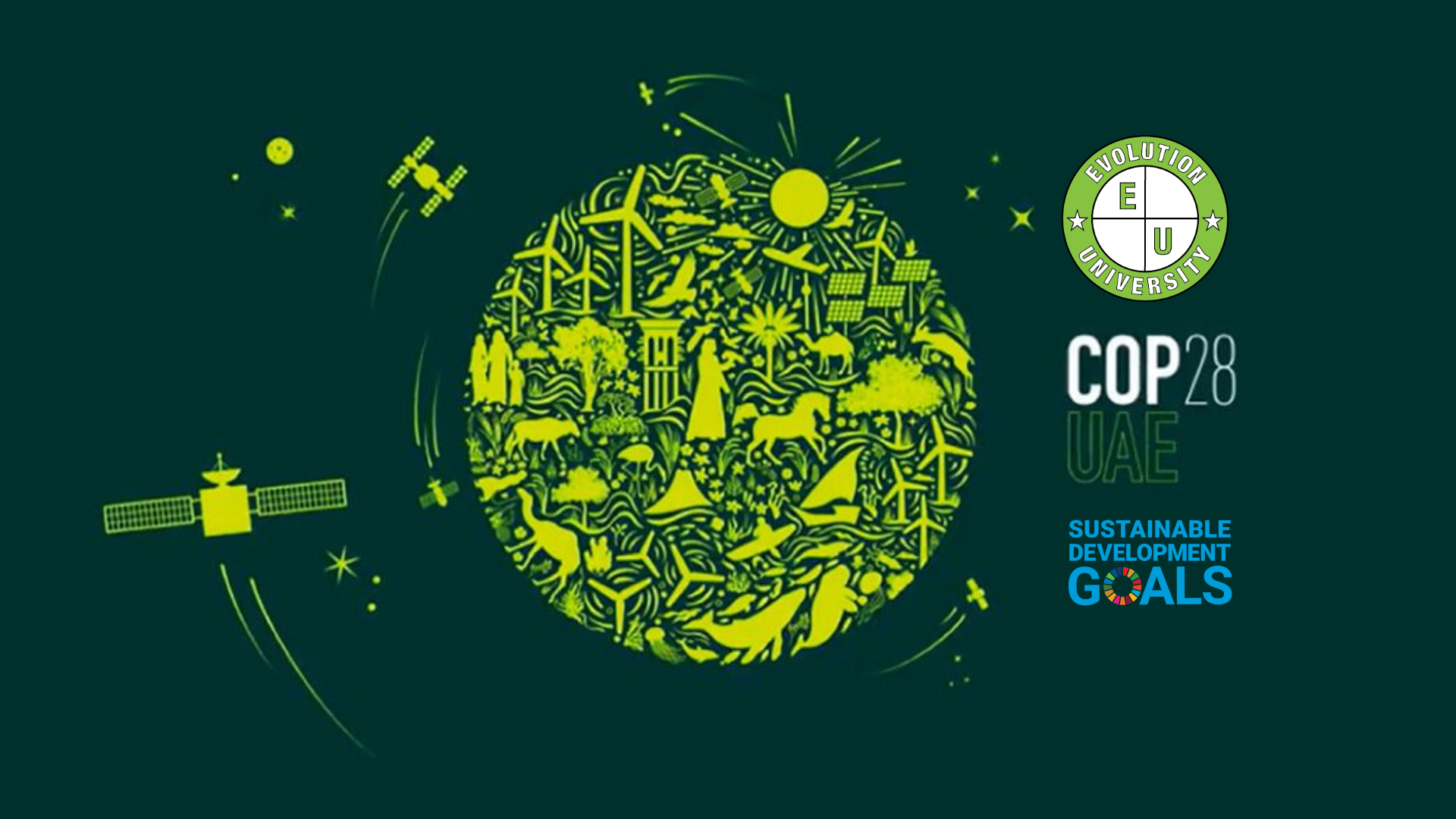 Created with