Begin your learning journey
MOREcompassion
Compassion is a mindset and a skillset proven to be essential for creating better relationships and a better world. This course shares insights on how to cultivate greater capacity for compassion and empathy and increase your ability to connect as leaders, collaborators, and changemakers. This course is offered free to everyone as part of Evolution University's spirit of giving.
The Power of Authentic Connection
As humanity is evolving, we have the gift of enjoying more fully expressed lives, creating more meaningful relationships, and showing greater care for one another. This is true both personally and professionally. This course expands on the book, "Celebrations, Appreciations & Frustrations,"a practice that helps us create better relationships by increasing connection and authentic relating. The course is designed to be an excellent leadership and team training tool.
Idea to Impact
Every successful venture begins with a brilliant idea. This course introduces you to the "EVOLVE Sustainability Framework" where you will explore and evaluate the viability of creative and innovative ideas and their potential impact on people and the planet.
Follow Us
#EvolveOurWorld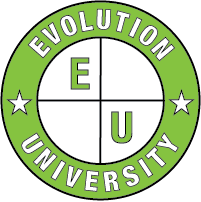 Stay Connected
Even the best newsletters can end up in spam. Be sure to mark news from Evolution University as "not junk" and add to contacts.
Copyright Since © 2020 | Evolution University | All rights reserved
Created with